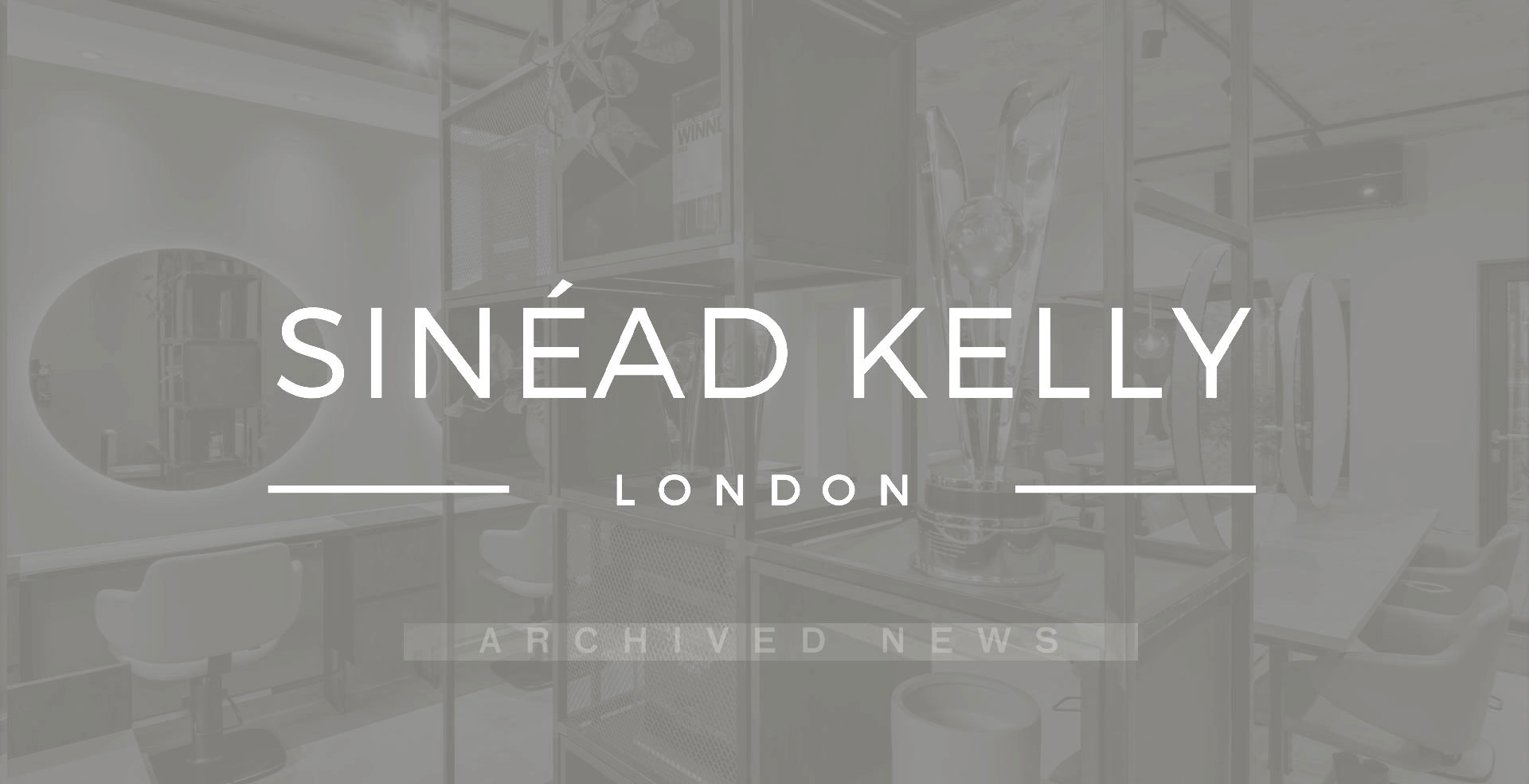 Wait Till The New Year To See Our New Look
As we celebrate our 10 year Anniversary in February 2020 its all change for Sinead Kelly London. Moving into 2020 the salon's reputation has gone from strength to strength as we pave the way to being one of London's go-to salons. Now is the time that salon owners and power couple Sinead and Andy decided to give the salon a modern and luxurious look.
No expense was spared in the quarter of a million pound refit as Sinead and Andy worked tirelessly with builders, light engineers and furniture suppliers to create a space that truly represented the brand and the new direction SKL are going in. From the moment you walk into the salon you are greeted by one of the members of the SKL family at the modern reception area, directly behind is a bespoke shelving unit displaying the trophies and awards the salon has won; the latest of which being the coveted L'Oreal Colour Trophy. Sinead and Vas (the resident colour specialist) nabbed the trophy in June 2019 in a record breaking win, Vas being the only colourist to ever win the award twice. We are very excited to announce that Sinead and Vas will be showcasing their winning look on the world stage when they venture to Milan in March 2020 for the International Colour Trophy. The
trophy takes pride of place, showcasing the in-salon talent you can expect when visiting.
Next to this is a
private consultation table for new clients who wish to discuss hair colour, cut and style options as well as existing clients who might want a more in-depth consultation prior to their appointment if looking for a change.
You are then guided through to an impeccably designed salon floor; pendant lights and soft furnishings from West Elm bring warmth to an ultra chic and modern space. The lighting ranges from track lighting that runs across the ceiling, reminiscent of Hollywood film sets, to golden pendant globes above sections and on the walls to mirror backlighting all carefully selected to create the correct ambience. The main lighting is flattering to the client and ensures your colour tone is exactly as it should be.
A 'community' table stretches along the central part of the salon, designed by Sinead and made reality by the fine Italian brand Maletti. This table means clients and stylists can work opposite each other promoting a social and community feel. The mirrors that divide each section can be removed in order to hold meetings with staff or cre
ative discussions to ensure the team are always at the forefront of fashion and new trends. All seating is also Maletti and made of beautiful Italian leather to ensure the utmost comfort during your visit.
Sinead and Andy worked alongside L'Oreal Professionel and Kerastase to create a hair bathing area luxurious in treatments and products, exquisite in design and most importantly an environment of relaxation, tranquillity and indulgence. Massage chairs with rising footrests mean you can choose exactly how you prefer to enjoy this integral part of your salon visit. Sonos is installed throughout the salon and calming, dulcet spa music fills the hair bathing area in contrast to the upbeat deep house sounds that brings vibrancy and fun to the main salon. Every tiny but important detail has been thought through to ensure Sinead Kelly London remains at the forefront of excellent service as well as fashion. It provides a high-end and lavish experience very rarely found outside central London salons, showcasing why they
are the go-to salon for colour and current national winners of one of the biggest awards in the country. The team are more like a family and this will be instantly noticeable when visiting as a warm and friendly environment is integral to the salon's success.
2020 is a very exciting year for Sinead Kelly London. Sinead and her highly trained team look forward to welcoming you into this new space of creativity, fashion and design in order to give you the highest level of service and care in London hairdressing. As we raise a toast to a fantastic decade of SKL we also raise a toast to the next, making sure we continue to go from strength to strength and keep our reputation of excellence in one of the world's most fashion
forward and thrilling cities.
Don't miss out and make sure you get your Christmas appointment booked in with one of our fabulous team members by either call 0208392244 or email [email protected]
Check out our work on instagram @sineadkellyldn
Our Christmas opening hours mean we are closed on the 24th December and reopen on the 2nd January